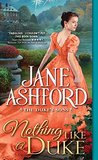 Nothing Like a Duke by Jane Ashford
My rating: 4 of 5 stars
A most unusual story with some very interesting scenes. The reader will enjoy this story and how the author introduces some fun games played back in the era this book is written about.
The theme throughout this book gives the reader a clear sense of the era involved and how house parties functioned. I found it entertaining with all the hidden agendas this book had and how they were resolved was priceless.
Flora's courage to go to this party that she clearly wanted to avoid comes across the page in such a manner that it encourages the reader to take heart and give something in their lives a chance.
Robert at times drove me crazy. I wanted him to just go up to Flora kiss her and make everything better. He also had his brilliant parts though where he carefully negotiated how events where turning out and how he fought to protect himself from hurt.
This story also brings in several secondary characters who not only cause upheaval but open other plot components for added interest for the reader.
I give this 3.75 stars because of all the new things I learned while reading it.
Received an advance reader copy in exchange for a fair review.
Visit my blog for more reviews: Sportochick's Musings